Like many people, my intention statement for the year could be summed up with the word "present".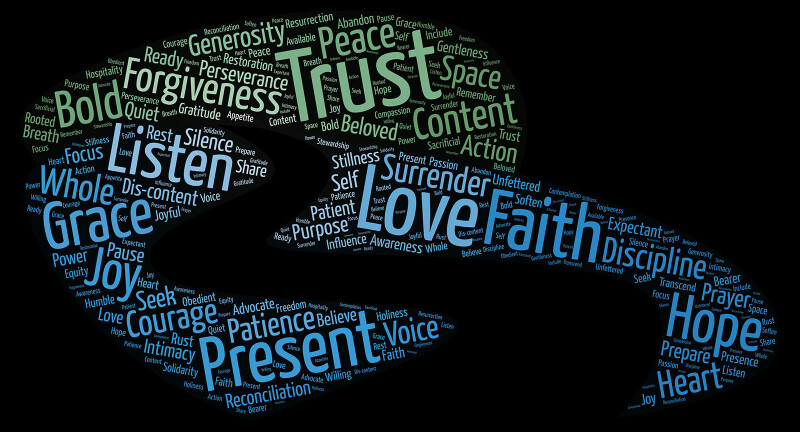 For me, this has a dual meaning.
I want to focus on being more fully present to the moment.
Sometimes, I feel like I'm living life in my rear view mirror. I'll think about how close certain relationships used to be and wonder why that connection has been lost or how to recapture the magic. Or I'll fixate on certain conversations or experiences that did not go the way I intended and dwell on what I could have done differently.
Other times, my focus is in the future. This seems especially true about my attitude towards God. I often have internal dialogues that go something like "Maybe once I've learned x, y, and z, God will finally answer this prayer."
But I want to be more present to what is happening right in front of me: the connections and lessons God has for me today. Not in comparison to what has been or with hope about what is to come. But present to what he has for me right here in the now.
I also want to focus on being more present to myself, my emotions, and my needs. As an Enneagram 2 (The Helper), this does not come to me naturally. I can be really empathetic and attuned to the emotions and needs of others. But myself? Forget about it!
I got incredibly burned out during my six years at an educational non-profit. After I left, I reflected a lot on the leadership lessons I had learned and very little time reflecting on what I had learned about myself. Most issues, I assumed, were due to organizational structure, the struggles of being a first-time manager, or unique obstacles of managing young-adult volunteers in their first jobs. Yet, here in the supportive work environment of The River, I've found myself at times caught in the same crippling grip of anxiety.
Slowly, I've been learning that I put far more pressure on myself than anyone else does. I see potential ways to fail or let people down in almost everything. I expect myself to be able to solve problems that even I describe as unsolvable. I've internalized my propensity to be helpful and positive to mean that I must be able to accomplish any and everything with a smile and never ask for help myself.
And it's exhausting.
But I've also been learning that when I feel pressure mounting or uninvited tears welling behind my eyes that I should ask myself, "What do you need?"
If I pause to ask myself this question, I'm surprised that I usually can articulate the mental trap that has me stuck, and I actually do know how to ask for help.
January marked the anniversary of my grandma going home to Jesus. As we entered the new year, I found myself getting anxious. My brain was pinging somewhere between "Last year the anniversary of her going home came and went and you were just fine, what are you anxious about?" and "Let's plan to set aside some time to sit with your memories and your grief to give it space."
Carrying this anxiety, I entered a staff meeting prayer time. As someone prayed for me, they found the words I did not yet have. Given how undone I became in the fall after my friends' two-year-old had a terrible accident, I was scared that giving any space to grief could send me into a deep spiral again.
What do you need?
I need to remember grief is normal—no matter the cause—and always looks a little different.
I need to be reminded that this life is temporary, and God has the final victory.
I need to remember that when I fell to pieces, my friends were there. They came and sat with me when I had no words for my pain, no hope to cling to.
I want to know it's possible to grieve and not come undone. But I need to remember that more than me putting on a good face and muscling through, the people who care about me have given me permission to show up just as I am.
So, I need to give myself permission to grieve and take whatever emotions come with that.
And be gracious with myself on the journey.
I intend to become awake to the present moment, attuned to the beauty that surrounds me, the grace I've been given, and the way I'm growing day by day into my identity as God's beloved daughter.
Deborah Woo has been attending The River since 2014. She is a Bay Area native who grew up attending First Covenant Church Oakland and loves watching The River get integrated into the Evangelical Covenant denomination. With a bachelors in psychology from Azusa Pacific University and Masters in Organizational Leadership from Northeastern University, she essentially loves figuring out what makes people tick and how to bring out the best in them. She joined The River staff team in 2016 and enjoys using her administrative gifts to help our growing community! Deborah's favorite thing about The River is that it's a place where people are honest about the non-linear nature of their faith journeys and the invitation for people from a variety of backgrounds to learn alongside and from one another in pursuit of the heart of Jesus.