When I Tried to Tell God He Was Wrong
People frequently ask me how I got involved with leading worship. I can guess the thought process in their heads: "Marie, you have a doctorate in clinical psychology. Why are you doing this? This has nothing to do with your field."
The truth is that I believe my journey into worship has been one of the coolest things in my life. It's a journey that reflects God's surprises and His goodness. Interestingly, I feel competent as a therapist but largely inadequate when it comes to worship.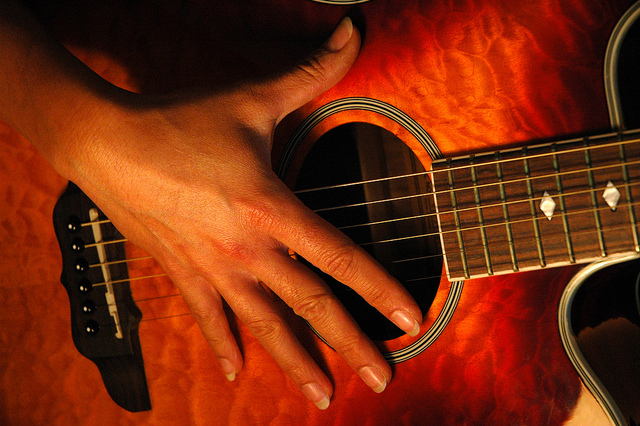 Image credit: Keoni Cabral
My journey with music has always been a battle. I took piano lessons for six years but quit when I wasn't able to learn to read music. In high school I attempted to learn guitar as part of my senior project. That didn't turn out so well either. Oh yeah, and I couldn't sing at all.
Throughout college, during times of prayer, I kept seeing this image of me playing guitar and leading worship on stage at a church. When I saw this image, I interpreted it to mean that I ought to be a leader, but I disregarded the worship component. So I pursued leadership opportunities in various ways throughout college. I did sing worship in my dorm nearly every day and attempted to lead worship in small group settings, though I had no sense of being any good at it.
Eight years later, when I moved to the Bay Area, I found myself in a bit of a rut. During my time of unemployment, I was in prayer one night and heard God speak to me: "I have gifted you in worship."
What??
So I did the Christian thing and kindly explained to God that He was wrong. Clearly. We had been down that road many times before and concluded that I couldn't sing and I couldn't play guitar.
It turns out that when God has something to say, He can be rather persistent. God reminded me of that image I'd seen for eight years. It's like He was saying, "Marie! I've been trying to tell this to you for a long time! Get yourself together and just accept that I'm telling you you're gifted in worship."

An excerpt from my journal the night God called me to worship
Reluctantly, I followed through. I emailed worship leader Luke Haythorpe and, in a very insecure way, told him I thought God was trying to say I was gifted in worship. Surprisingly, Luke responded in agreement and offered guidance along the way. So my journey on the worship team at The River began.
Within the next few weeks I heard God say that I ought to pray for an internship with the worship team at The River. Again, I kindly explained that He was clearly wrong. There was no such thing as a worship internship at The River, and, if there was, I certainly would not be one of the candidates for it. But I still prayed for it, partly because I wasn't ready to find out what consequences I'd face for blatant disobedience and partly because I wanted to show God that it was a bad idea. But mostly I prayed for it because I was secretly very excited at the idea of growing and serving in worship.
Within a week of that prayer, Luke approached me while we were serving together at Kids Club. His eyes were closed as he explained that God seemed to be speaking to him at that moment. He said he saw an internship with the worship team and asked if I was interested. He noted that the internship did not exist yet, but he was just now hearing about it from God as he spoke.
It was a weird Twilight Zone moment for me. I felt the words that were about to come from Luke before he said them. I was totally floored and unsurprised at the same time. So, yes, I was interested. In fact, I told him that I had just prayed for the internship last week.
And so it began. I sometimes feel like Moses when God called him to lead His people. Moses complained to God that he wasn't a good candidate because of a speech impediment. Here's how God replied:
"Who gave human beings their mouths? Who makes them deaf or mute? Who gives them sight or makes them blind? Is it not I, the Lord?" - Exodus 4:11 (NIV)
As I complain to God that I'm not especially musically talented, He reminds me that He created me. He decides what I sound like. And, besides, musical worship is not about sounding good, it's about leading others to Jesus. It's about aligning our spirits together with God's Spirit.
I love that I'm not particularly gifted in music, as it forces me to rely on God for the strength and development of my worship-leading skills. I cannot rely on musical talent to pull me through. Some weeks after Thursday rehearsal I feel as though people at The River might wake up and ask me to step down any day. Sometimes, while driving to church on Sunday mornings, I experience the internal broken-record player: "Why didn't I practice that song more?" "I think my voice is too phlegmy today," or my go-to favorite, "I have no idea what I'm doing." Luckily, these aren't the factors that really matter. What matters is that I must come to Jesus every week and ask that He lead the worship, not me.
So far, God keeps showing up. I think He just might continue to do so as long as I keep inviting Him along for the journey. I'm glad I listened to God when I thought He was so very wrong. It's even possible that He's been right since the beginning.
Have you ever experienced an unexpected calling from God? In what areas of your life do you find yourself needing to rely on God? How has He shown up for you when you've stretched yourself?
| | |
| --- | --- |
| | Marie Fang has attended The River since 2012 and serves as worship coordinator. Before moving to the Bay Area, Marie was involved in InterVarsity Christian Fellowship and at Coast Vineyard Church in San Diego. She has a doctorate in Clinical Psychology and works part-time at two psychotherapy practices as she pursues licensure as a psychologist. Marie and her husband Daniel have been married since 2009. Marie is passionate about learning to love those who are frequently unloved and guiding others in their journey of developing a healthy sense of identity. |